Is This a Sign of the Effect That Avengers 3&4 Will Have on Agents of Shield?
This is good news! Disney/Marvel/ABC announced today that Agents of SHIELD has been renewed for season 7, even though season 6 won't air until Summer 2019. Many had assumed that the shortened, 13 episode season would be the series last, so early confirmation that the network is still supporting its original foray into Marvel TV programming is very welcome.
Like season 6, season 7 will be 13 episodes, which puts its episode count in the same range as Marvel's other TV properties, such as the series in the Netflix universe, FX's Legion, and Hulu's Runaways. I've noted in other places that I prefer a shorter episode count, since it allows for tighter writing, encouraging more creativity with less filler.
But the other news from the announcement is what's not in it: Clark Gregg's name. The regular cast members are listed as: Ming-Na Wen, Chloe Bennet, Iain De Caestecker, Elizabeth Henstridge, Henry Simmons, Natalia Cordova-Buckley and Jeff Ward.
As regular viewers will recall, Gregg's character, beloved Agent Phil Coulson, had a brief stint as Ghost Rider in season 4. Due to the after effects of hosting the Ghost Rider demon, by the end of season 5 Coulson had suffered a relapse of the injuries which killed him in the original Avengers movie.
Over the course of season 5, Coulson and Ming-Na Wen's Agent Melinda May finally admitted their romantic feelings for each other and began a relationship. In the season finale, the younger members of the team dropped the pair off in Tahiti before setting off into space to find Fitz's double, to replace the Fitz they'd lost in battle.
Yeah, if you didn't see season 5, you're really lost right now. Just go watch it!
It was fitting that Coulson, who'd begun the series having been secretly brought back to life using an experimental treatment which was code-named T.A.H.I.T.I., should spend his final days enjoying the real thing. But fans of the wider Marvel Cinematic Universe also know that his imminent 2nd death is preparation for his reentry into the film side of the universe.
Gregg is set to play a 90s version of Agent Coulson in the upcoming MCU film Captain Marvel, due in theaters March 8, 2019. The film also stars Brie Larson as Captain Marvel and Samuel L Jackson as young Nick Fury, another character whose onscreen death didn't take (in Captain America: The Winter Soldier).
We already know that Clark Gregg will be involved with season 6 of Agents of SHIELD behind the camera, since it's been announced that he's directing the first episode of the season, Missing Pieces. Previously, Gregg directed episode 506, Fun & Games.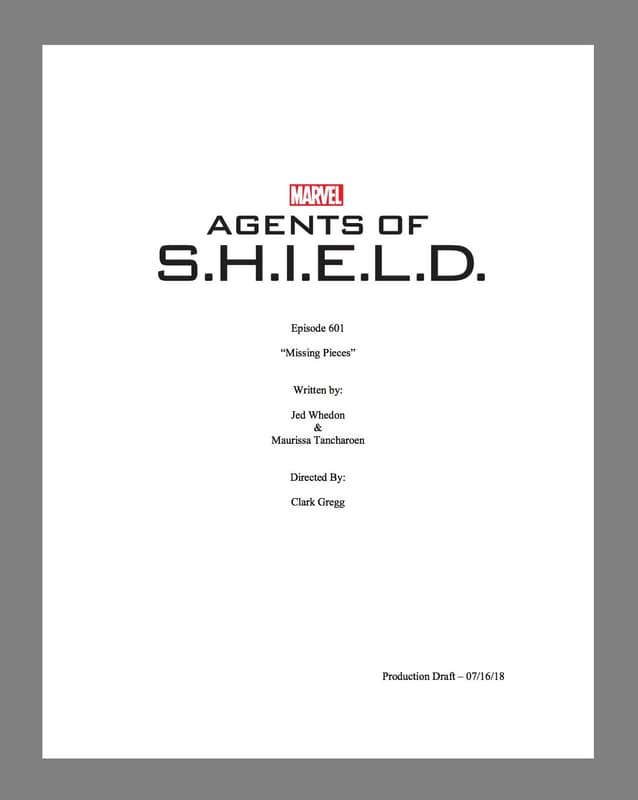 Ever since Agents of SHIELD was renewed for season 6, but for a shortened summer season instead of its usual 22 episode fall and spring season, fans have speculated that the change was meant to hold the new season until after Captain Marvel and Avengers 4: Infinity War Part 2 (or whatever the working title is this week) are released. The season 7 renewal of the series seems to confirm that the show wasn't moved to summer because the studio plans to get rid of it, but because Agents of SHIELD doesn't intend to deal directly with the catastrophic events of Avengers: Infinity War, which will likely be undone when Avengers 4 is released on May 3, 2019.
None of the other series in the MCU have directly referenced the events of Infinity War, choosing to slow down their timelines so that they haven't reached the crisis point yet. Then they can simply hop over the Infinity War mess as a hotspot in a remote part of the world that doesn't directly affect them, as long as Thanos' snap is ultimately undone.
That's a little harder for the Netflix shows, since some of the Infinity War events take place in NYC, but it's a big city, with a lot of superheroes. They all have their own specialties and territories, so Daredevil wouldn't normally be involved in Dr Strange and Tony Stark's fights. Perhaps this is no different.
Perhaps Avengers 4 will finally have the TV universe cameos that everyone has been clamoring for forever, showing how some of our favorites were affected. It would be a great cold open for the film.
Unlike the other MCU series, Agents of SHIELD did reference the events of Infinity War, leaving off not long before the last, climactic battle. They'll want to at least add in some verbal references to the resolution of the crisis in Avengers 4.
Deke, in particular, is now a man outside of time. There's a good chance that he'll notice timeline changes and remember all previous timelines, while others forget. CryoFitz is also in an odd situation with the multiverse.
Could Deke and AltFitz bond over this unique characteristic?
Withholding Coulson's fate is part of the studio's strategy to avoid spoilers for Avengers 4 for as long as possible. We still don't even know the title for the Avengers movie that will be released in less than 6 months, which breaks Marvels previous patterns. There's a good chance that Coulson will be dead at the beginning of Avengers 4, and either alien or Stark technology will bring him back.
Imagine how Tony could improve on the LMD. Agents of SHIELD has already removed consciousnesses from the body and made realistic Life Model Decoys. After the creation of Vision, it's not a huge step for Bruce and Tony to make a body for Phil.
But that's just one idea. He could also be given a vibranium artificial heart and lungs or pushed out of the way of Loki's staff during a time travel mission. Or present day Captain Marvel could have some healing knowledge that would save her old pal.
Agent Coulson may be back as a regular for Agents of SHIELD season 6 & 7 feeling better than ever. Or Marvel may court fan riots and let him sacrifice himself again.
Images courtesy of Marvel Studios.